Someone else claimed your google business listing and you don't have the login… what happens now?
It's fairly common for business owners to have another agency claim and optimize their Google My Business listing. What happens when you leave that agency and they don't provide the logins? The big question arises, "how can I get my Google Local Listing back under my control?"
This is actually a fairly common problem in the small business community, and Google has actually built-in some support features that are far more advanced than they had a few years ago. In the past you had to rely on email and the hope someone would help you within a week. Today there is actually the ability to call a Google My Business support representative, and discuss your issue over the phone; with a real person – not a machine! Keep reading and I'll walk you through how to fix this issue in record time as long as you have all the required materials.
How common is it to lose your password?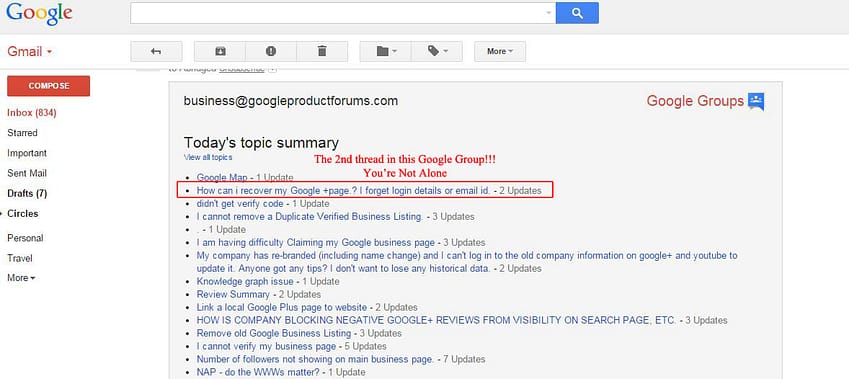 See that, you're not alone! If you subscribe to the Google and Your Business forum email blast, then you'll see messages just like this come through your inbox every day. As you can see from the latest email, the second thread is from someone who has lost their log in information and can't log into their business page. It's not the end of the world. Take a breath, grab a beer, and relax for a second.
So how do I fix this mess?!
Luckily for you there is a fairly routine support procedure for issues like this. In the past I've worked with clients on this issue and it took a call to support, an email, and a week gone by before anything substantial was done. These days, a 30 minute phone call can fix the problem as long as you have the correct information. Lets go through the essentials before we dive into the strategy.
The essentials for this job
Before contacting support there's a few things that I'll recommend you put together before the call:
An email address from your domain

This will help establish trust that you have the authority to represent the business.
Make sure it's not a personal one. It should be one available for anyone in the company to access, like "marketing@mydomain.com" so that way you can allow anyone on your marketing team to access and work with support (assuming you don't want to be the only one with the ability to do this).
Google support will need to verify an email address from your domain during this procedure, so it's important to have on hand.

The URL of the actual Google My Business Page

Find the Google My Business page you're trying to get control over. Copy it and save it for later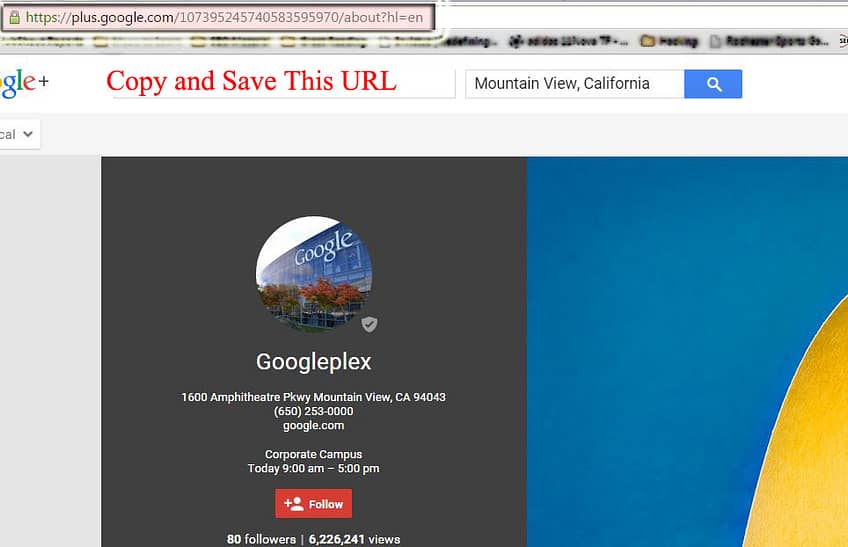 Create a Gmail account to manage the page for your business.
For consultants, make sure you get this information from your clients before you start this process. It makes the job a lot easier on everyone (especially you)!
Steps to fix
Log in to the Gmail account you're using to claim the page
Go to the Google My Business Support page. If you forget the URL for this page, you can always Google it 🙂
Google has call centers open from 6 AM – 5 PM PST. If you visit the support page during that time you'll be able to select the prompt to call, otherwise you'll need to submit a contact form and follow-up by email.
To fix via phone call, follow these steps:

Click "Contact Us" in the top right corner of the page 
If you are working on this within the call center hours, you'll see a button that will allow you to call Google. Click this button and fill out the contact information (name, email, phone number), and Google will call the number you list
Google will then connect you with a support representative, where you'll be able to work out the issue.
At this stage it's important to have the required material I listed before. Having all these prior to the call will help expedite the process, and turn what could be an hour (or more) long call into a 20 minute conversation and resolution.
During the call the Google rep will email you a short form to complete. This asks for contact information and identity verification.
If you are not the business owner or a in-house worker (an agency, SEO, or other marketing firm), Google will need to put you on hold to call the business owner and confirm you are working with them. This is to ensure listing hijacking doesn't occur.

If you need to follow-up via email (outside the call center times):

Click "Contact Us" in the top right corner of the page
Google will now prompt you with a question whether you're a store (physical location or service area) or a brand page. Let them know which one you are
On the next prompt, select "I'm having another type of problem"
Again, select "I'm having another type of problem"
At this point you'll get to a screen where you can enter contact information. Fill out everything you can as accurate as you can
Finally, you'll see this screen. You'll need to wait for Google to follow-up with you via email 🙂
 Let me know if you have any Questions!
If you still have questions about getting control over your Google My Business listing, or any other local search/local SEO questions in general, contact me.