Are Negative SEO Services Destroying Your Business?
What would you do if everything you worked for over a lifetime was destroyed in an instant? How would you feel if after all the blood, sweat and tears to build something great it was suddenly taken away? Could you imagine the fear of losing the ability to drive qualified leads to your business over night from a major source? What would you do to rebuild? That's assuming of course you have the resources to rebuild in the first place. What if you found out that you were a victim of negative SEO?
Well, luckily this didn't really happen to me exactly as I laid it out but I did feel the sting of negative SEO over the last couple of months. Unfortunately my marketing website has been under attack from an area competitor. With Google's recent algorithm update looming (and now launched), I decided it was time to really work on fixing the issue. When a website is under attack from the link-spam type of negative SEO, there are two options you can take after you find the bad links:
Contact the website owners for removal
Disavow the links
I decided to go with option #2 for this test. Why? After doing a quick check with aHrefs and Majestic on a typical monitoring check, I saw the kinds of backlinks my site was getting; low quality spam. At this point I assumed reaching out to the site owners would be a lost cause, because they were so poorly moderated.
How They Targeted Me with Negative SEO Attacks
This was a pretty typical attack against a site's main keywords using anchors with Exact Match Anchor Text (EMAT). What this attacker did was look for keywords in the title tags on my website to decide how to attack me. This isn't hard to do, especially at scale with a tool like Screaming Frog SEO Spider. Once they understand what you're trying to target, they can monitor both your site and theirs with various rank checking software to decide whether it's worth attacking. Is negative SEO legal? The attacker(s) are spending their own money and/or time to build these links, and have not done anything malicious In this case they targeted me very heavily with the EMAT of "Pittsburgh SEO Consultant" in all the links they built.

I've been tracking this term for quite some time, so I was able to monitor the fluctuation in keyword ranking pre and post Disavow. That's key to running a test like this – track everything you can.
The sites they decided to target this anchor text on were less than desirable. These were mostly irrelevant forums (which don't appear to have anyone moderating the community), and spam blog comments. The spam blog comments appear to be any site they could find which would allow un-moderated comments, and hopefully a do-follow link. The do-follow link was key for the attacker, since it's believed that would have the largest probability of a negative impact to my site. The point of an attack like this is to make it look like I am actively trying to manipulate ranking signals for my site. Even Marie Haynes, who is a well known Penguin/Panda thought leader, said she would have suspected I was trying to manipulate the ranking algorithm had I not fully explained my situation. I'll show a real example of these domains, so you can check them out for yourself. These are not websites I would be proud of getting my website listed on.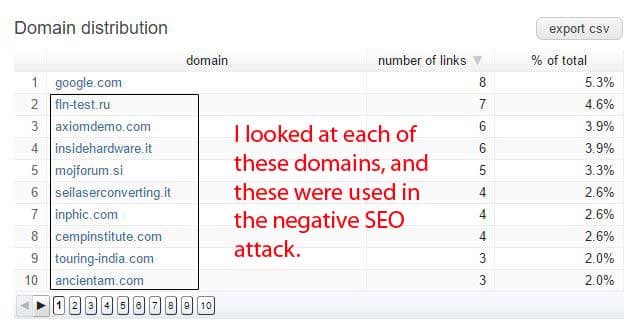 Needless to say, I wasn't happy to see the anchor text distribution or the types of sites I was being listed on. I don't build links like this, and never will.
What Did I Do to Beat Negative SEO?
When I started really digging into this issue, I wasn't quite sure how to completely go about fixing this. Typically when I go through this process I will take data from multiple sources (Google Search Console, Majestic, aHrefs, Moz) which I will put into a spreadsheet, de-dupe the links, then review. This process is tough because I will need to manually pull each source to get the links, there wasn't a great automated way to monitor the links. Things were different this time, because out of the blue I received an email from a representative at Linkody. They saw an old post where I compared a few other tools, and wanted to know if they could be included. This was dumb luck at the perfect time for me. I declined the request to add them to the comparison post, but let them know I would use their product to write a new post. They were gracious enough to provide me with a free trial for two months, so I could solve my problem and tell my story. Thanks Linkody!
Using Linkody I was able to solve a couple of problems that I wasn't able to solve as effectively before.
I am able to monitor for potential bad links (new and old).
I am able to monitor competitor links to see what new sites they're being listed on (spoiler alert: many of them are also getting hit with the same negative SEO attacks).
I am able to get email updates about changes in links (both new links and status code changes in known links.
Bullet points #1 and #3 will be critical in the effort to protect my site against negative SEO.
How I used Linkody in Conjunction with the other Backlink Analysis Tools
What I started out I set up my domain and a few competitors in the dashboard. Once I did that, it started searching for backlinks; it didn't just look for my backlinks, it looked for competitor backlinks! I left the tool to do its work and worked on some other projects for a little while. When I came back, Linkody had found a good amount of backlinks.
The problem I saw is that Linkody's report was missing many domains I knew I had links on. That lead me to believe their index isn't that large. This really isn't that big of a deal, since there are countless other articles out on the web trying to tell you what the best backlink analysis tool is (just Google "majestic vs ahrefs vs OSE"). Bummer right? Well, not exactly. Linkody has a pretty nice feature where you can provide links to monitor. Remember, this is a backlink monitoring tool, not an analysis tool like Majestic/aHrefs/OSE. They have a nice tab to add new links to the list, which I was happy to use.
This leads you to a screen where you can import a bulk list of links to monitor.
I exported link data from Majestic, OSE, aHrefs, and GSC into Excel to go through the normal process of analyzing my links. Before I de-duped the links, I exported Linkody's found backlinks into Excel to see what sort of overlap the tool has. My site as a relatively small sample size, so I expect more of a discrepancy with larger sites. I found that Linkody found 20% fewer links than Majestic and aHrefs. Moz was a little closer, but their index isn't as large as the other tools. For me this, really isn't a huge deal, because Linkody has the ability to add links. I proceeded to de-dupe the links, removed the links Linkody had already found, and added the new links to the monitor list. Now I have a full list of links to review.
What to do with Negative SEO Links
Another great feature of this tool is the ability to review the links, and add either the URL or the domain to a disavow file. This is all located within the main tool. Since the attack used the same pattern of EMAT keyword targeting, I was able to filter my links by Anchor Text. I then looked at the Moz Domain Authority and Spam Score being reported for each link. I was able to review each link in the tool at the click of a button, then decide whether the link was part of the negative SEO attack was potentially hurting my site.
Clicking on the gear in the final column for each link found, I am able to either add the single URL to the disavow file or the entire domain. For the negative SEO links I added entire domains, since they were irrelevant to my site. Adding a domain to the disavow file updated all links found from that specific domain with a "blocked" symbol within the tool to note that link is part of the disavow file. That saves a ton of time when reviewing these bad links. It was awesome. After going through this process with all the links in the tool, I was able to easily export a disavow file in a .txt file format to upload to Google Search Console. How much easier could it get?
After to submitting the file to GSC, I have seen this term bounce back to the pre-penguin ranking at the bottom of page one-top of page 2. The process would not have been as easy without these awesome tools.
What Happens Next?
Now, since Penguin is continuously checking and devaluing links, I'm continuing to monitor changes in my backlink profile. My strategy is now is monitor backlinks, disavow bad links, and repeat. Linkody has been helpful because I am able to get update emails when links change or new links are found. This allows me to spend less time sorting through links, and more time working on building relationships.
After using this tool, I will be recommending present and future clients to monitor their backlinks in a similar way. I think this helped tie together a piece of the process I was missing, so this will be a great add-on. My next use of this tool set (Linkody, Majestic, aHrefs, Moz) will be within the scope of link building efforts.
Thanks for reading my story! Hopefully my story can help you discover and solve your own negative SEO problem. I look forward to the discussion in the comments and on social media how your business is handling negative SEO attacks.
Sign up below to get updated when I post the follow-up link building article: