My Google Map Summary is Screwed up. Now what?
If you're like most small business owners (or consultants), you've gone out and claimed your Google My Business listing. Unfortunately more times than not, there are some hidden problems that always seem to arise just as you think the work is done and over with. One of those problems could very well be an incorrect Google Business Summary displaying in Google Maps. You're probably asking how this could possibly be incorrect, since you were the one that put the blood, sweat, and tears into writing it (OK… maybe that's a little melodramatic, but you get the point). Google has specific guidelines and explains the different types of descriptions you could see laid out on this support page. In some cases, Google will actually change that summary you worked so hard on, and according to their support page they have good reasons to do so.

This issue was brought up in the Local Search Pros Google+ Community by Chris McCreery. Check out the discussion!
Types of short business descriptions on google maps
Google has two types of summary descriptions you might see on Google Maps; Editorial Summaries and Review Snippets.
A Editorial Summary Description is a short description that the business owner/page manager will write for the page. The idea behind these is to give the user a quick snapshot of the business before they click into the Google My Business page from the Map results. Think of this as your "elevator pitch" to win over a prospective customer. Since these editorial summaries show on the map or alongside review and rating information, it's important to create a sense of excitement or desire to learn more about the business. You want to make a searcher curious about learning more about you, simply by reading a sentence.
Review Snippets are algorithmically selected quotes that Google has chosen to show, because they are highly relevant to the user's search query (typically has the keywords most mentioned by reviewers). The most common words or phrases associated with the business are highlighted in bold, and under the review will be the number of reviewers that used that same term.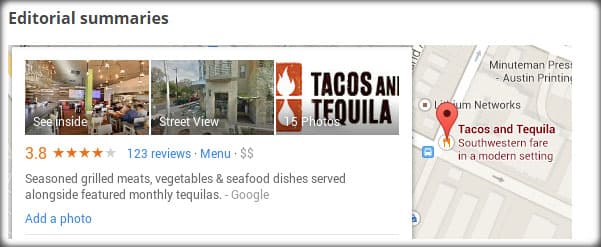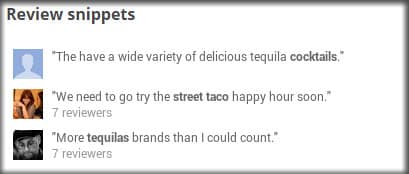 Google tries to show accurate, up-to-date short descriptions for businesses. They've noted in their support page they won't remove descriptions for being unclear or negative. Google will only remove the following:
Keywords and review snippets that have been associated with an unrelated place.
Editorial summaries if the information included describes services the business doesn't offer.
How can I fix a incorrect description?
Luckily there is a way to fix a Google business summary if Google gets it wrong (don't worry, it happens to a lot of people). Google has gotten much better at providing outlets for support to the local search community and businesses owners that rely on their Google My Business product. Google has a Incorrect Summary on Business Page support section where you can alert them of this problem. Enter all the required information, submit the form, and look for a email from the Google support team following up on your issue.
The turn around times on these issues have gotten a lot better in the past couple of years, so hopefully it doesn't take more than a day or so to get an answer. If it does take longer than expected, there's always a "Contact Us" button at the top of the page where you can talk to a rep about your issue.
Hopefully this helps a few people with this potentially frustrating Google Maps problem! If you want to discuss Local Search Marketing or have another issue you'd like me to investigate with Google Maps, let me know by emailing me and I'll try to cover it in the next blog post!